Quintin Pearson is white, thin as a sapling. At least 20 black men beat him unconscious at a party - but 'heroic black friend saves his life'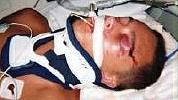 last August after a confrontation that may have been sharpened by racial epithets. They cut his face, broke his nose, stomped on his skull. He went to the hospital in a helicopter, breathing through a machine. Doctors put him on morphine and a feeding tube. He stayed unconscious until the fourth day, didn't go home until the sixth. But he is alive. The black men did not kill him that night under the strobe lights at the Kraft Athletic Club. Their final blows fell on a human shield when Quintin's black friend Andre Johnson aka DreDay knelt to cover him. Quintin Pearson made many black friends.

Quintin's brother Jackie Pearson (pictured on left) was on the dance floor when the ambush came. Black man with a big glass bottle. He came from behind, smashed it across Jackie's head, knocked him to the polished concrete. A savage crowd engulfed Jackie, maybe 20 of them, maybe 40, their kicks printing pink on his back.
Investigators do not believe the attack was racially motivated. Late in September, deputies arrested two black 21-year-old residents -- a furniture mover named Brandon Parish and an unemployed electrician named Daniel "Tray" Albertie -- and charged them with attempted murder in connection with the Pearson assault. Black parents protested when deputies entered the high school to question students.

Jackie sits on a couch in a mobile home down a dirt road in North Jacksonville, unable to work. His vertebrae are twisted. Quintin has lost part of his short-term memory. He wakes up mumbling nonsense, the world swirling before him like an impressionist painting. He still dreams of fixing his knee and playing college football. He wants his attackers to feel the pain they gave him.
On Sept. 23, after the Homecoming game at the high school, the brothers say they were driving out of the parking lot when nearly 20 black men approached Quintin's Camaro, leering and stomping. Quintin pulled a knife. Jackie brandished a baseball bat. The showdown never turned violent, but Quintin went to jail for carrying a weapon on school property. He has stopped going to football games because he doesn't feel safe. "I thought all of (the blacks) were my friends," Quintin said. "Come to find out, only Andre was." - (reader link)
And the moral of the story is... ?
'Hate crime'
"I am the mother of the two boys (Quintin and Jackie Pearson) who were brutally beaten by 15 to 20 black boys at Ten Acres Kraft Athletic Club. This occurrence is being labeled as a fight, when in fact that is not at all what had occurred. My two boys were hit from behind with beer bottles and continually beaten, kicked and stomped in their heads and backs. These boys were beaten continually while unconscious. That can hardly be labeled as a fight. These acts were beatings, a form of a hate crime or assault with a deadly weapon or attempted murder. There are many labels that could be placed on this crime and "fight" is not one of them. - (reader link from AR list)