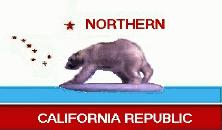 In June of 1846,
thirty three men rode into Sonoma, California and proclaimed it as an independent republic. One of their first actions for their new nation
was to design and hoist a flag.
Constitution | Headlines | Bible
News wires | Maps | Weather | Earthquakes


Predatory Aliens News
"Tens of thousands of violent crimes are committed each year against our children by foreign nationals who should never have been allowed to enter or stay in our country. The most disturbing aspect of this problem is the thousands of unregistered sex offenders who have entered the United States illegally and therefore are not being tracked. These dangerous sex offenders are not included in the Megan's Law data bases, and not even the police know their whereabouts or identities.
While (Predatory Aliens News) deals with predatory aliens who commit violent crimes against our children, we must remember that the real criminals are the politicians and government employees who prohibit enforcement of our immigration laws and the proper screening of foreign nationals who enter our country. There can be no penalty too harsh for these politicians and government employees who are willing to sacrifice our children for their own perverse agenda.
Since July 9, 2003, Immigration and Customs Enforcement (ICE) has arrested more than 3,655 foreign national sexual predators in the United States."