A black man who took hostages in a bar and told the patrons that "white people are going to burn tonight"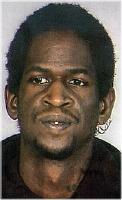 was convicted Thursday of attempted murder, assault and other crimes. AIDS-infected Steven Johnson, 39, showed no emotion after the jury, which deliberated a week, found him guilty of more than 50 crimes, some of them designated hate crimes that are punished more severely than other offenses. Johnson invaded Bar Veloce, in Manhattan'sEast Village area, while nine men and six women were inside early June 16, 2002. He was carrying three pistols, a samurai sword and a container of kerosene. He warned, "White people are going to burn tonight." He later told police he left the housing project in Brooklyn where he lived and took a subway train to the East Village, where he looked for "happy" white people to avenge the mistreatment of black people. He shot and wounded three people, including a police officer, and sprayed kerosene on several customers and threatened to set them on fire. Two women caught Johnson off guard and tackled him, and a policeman shot him. Sentencing was set for March 21.
- (Newsroom) - (crime) - (Black-on-white) - (Hatecrimes) - (Stormfront)

Ref: Victims Turn The Tables
"I guess we'd been there for like and hour and a half, and then heard a gunshot outside and the man who'd been shot walked in," recalls Robin Arzon. "The whole evening was just a bad made-for-TV movie in many, many ways," explains Anne Hubbard, who had just finished her shift as a waitress at another restaurant when she found herself a hostage.

Ref: "WHITE PEOPLE ARE GOING TO BURN TONIGHT!"
Ref: "I wanted to kill as many white people as I could," Johnson told detectives
after the 40-minute siege, which left Johnson and three victims with bullet wounds.