There were apologies all around yesterday afternoon from the US Olympic men's 4x100-meter relay team, which came under heavy criticism for what many saw as an offensive, unpatriotic display of preening and posturing after winning the gold medal two weeks ago in Sydney.
''Sadly, our gold medal has become a symbol not of hard work and victory, but a reminder of disgrace,'' said relay captain Jon Drummond, reading from a statement during a teleconference. ''We hope through our words and actions in the coming months we will convince everyone of our character, our respect for the flag, and our pride in being Americans. We guarantee that what happened in Sydney will not be repeated.''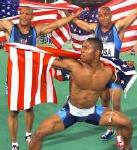 After defeating silver medalist Brazil and bronze medalist Cuba, the US squad of Drummond, Bernard Williams, Brian Lewis, and Maurice Greene first gathered in a circle to say a prayer, then began to cavort around the track in a lengthy victory lap in which some of them stripped to the waist, used the American flag as a turban, and struck poses emulating professional wrestlers, using the flag as a prop. As the celebration went on, cheers from the Australian crowd were punctuated by whistles of derision, and even other US athletes competing that night condemned the display. Later, on the victory stand, several on the relay team clowned with their medals after receiving them from former Secretary of State Henry Kissinger.
''We meant no disrespect or offense with our actions, and we understand that our behavior caused pain and anger for many Americans,'' said Drummond. ''We maybe got out of control.''
''We're truly sorry for it,'' said Greene, who also won gold in the 100-meter dash. ''A lot of war men have e-mailed me how disgraced they feel.''
Drummond also acknowledged that, in the week following the Games, he got 150-200 e-mails a day, almost all negative and some with ugly racial overtones. ''It was horrible,'' he said.
Added Williams, seen by many as the prime offender for his prolonged antics: ''I am very sorry, very apologetic if I offended anybody.'' At 22, Williams is the youngest of the quartet.
Craig Masback, CEO of USA Track & Field, read a statement in which he called the incident ''disconcerting'' and said the four athletes will speak to young people about their actions and consequences as part of a USATF program. He also said that in the future the organization will inform its athletes in writing of the expectations of them and consequences for ''actions that do not meet the standards we set.''
Summed up Greene: ''We just lost our minds.''