Several blacks charged in beating death of White Des Moines man




Three 18-year-old men have been charged with murder in the beating death of a Des Moines man last weekend. Yarvon Nathaniel Russell, 18, James Alon Shorter, 18, and Kent Anthony Tyler III, 18, all of Des Moines, were charged Friday with first-degree murder. Officers found

Richard Daughenbaugh

, 40, severely beaten in a parking lot near the Center Street bridge around 1 a.m. Sunday. He later died from his injuries at a local hospital. Des Moines Police Sgt. Jason Halifax said Daughenbaugh apparently got into a verbal altercation with one of the three suspects. The altercation turned physical when one of the men attacked Daughenbaugh. The other two men – and likely several others – joined in.
Good Samaritans attacked.
Police received only one 911 call, from a woman fishing with her boyfriend, who apparently tried to stop the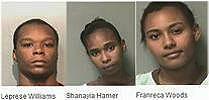 attack.

She was hit

while trying to step in.

Her boyfriend tried to defend her and was assaulted as well.

Le'Prese Derrion Williams, 21, of Des Moines, was charged with willful injury for that attack. Two others, Shanayia Hamer, 22, and Franreca Woods, 18, were charged with first-degree theft for allegedly taking and throwing the woman's cell phone when she tried calling 911. "The phrase mob mentality is accurate here," Halifax said. "Once the assault began, acquaintances of the first suspect jumped in. - (Black-on-white)
Police making progress in fatal downtown beating case
Police arrest 4th suspect in downtown fatal beating
A fourth man faces a murder charge in the fatal beating of a Des Moines man that occurred in late August, Des Moines police announced Friday. Le'Prese Derrion Williams, 21, of Des Moines was arrested and charged with first-degree murder for his role in the death of

Richard Daughenbaugh

, 40, of Des Moines on Aug.25, the release stated. Daughenbaugh was found severely beaten in a parking lot near the Center Street bridge around 1 a.m. Aug. 25. He later died at a local hospital.