Hmong Man Found Guilty in Hunter Deaths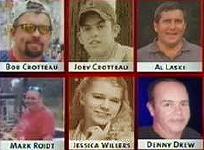 Wis. -- A jury on Friday convicted an immigrant truck driver of first-degree murder in the

shooting deaths of six deer hunters

during a confrontation over trespassing, rejecting his claims that he fired in self-defense.

Chai Soua Vang

, 36, faces mandatory life in prison. Wisconsin does not have a death penalty. Jurors deliberated about three hours before convicting Vang on six counts of first-degree intentional homicide and three counts of attempted homicide. In addition to the six dead, two hunters were wounded in the shootings Nov. 21 that began when the group of hunters confronted Vang for being on private land.

-

(NNN Newsroom) - (Invasion!)
Charge Hmong Hmonster With Hate Crime!

-

By Dave Gibson


Chai Vang

, the Hmong immigrant who murdered six Wisconsin hunters last November has been found guilty on six counts of murder and two counts of attempted murder. However, this verdict is not enough. All of his victims were white and his vicious behavior went much farther than simple murder.... There has been a growing problem with Hmong hunters trespassing on private lands in Wisconsin and Minnesota. Hmong regularly hunt game out of season, none have licenses, and many reportedly use AK-47 assault weapons... Make no mistake, had a white man been chasing down a group of unarmed Asians, picking them off one by one--the news coverage would trump that of the Natalee Holloway case. The FBI would also consider the massacre to be a 'hate crime.' However, it is never considered to be hateful nor racist when the murder victims are white.