DARK Stockton man with FOREIGN name (from Thailand?) arrested, accused of shooting police sergeant after carjacking, pursuit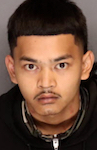 STOCKTON -- A Stockton resident is in custody Wednesday, facing charges linked to a carjacking and shooting of a Stockton police sergeant earlier in the day.

Sunthawon "Benny" Savon, 20, faces felony charges for attempted murder, carjacking, possession of a stolen vehicle, assault with a deadly weapon and a misdemeanor fleeing a peace officer.

The charges stem from an early morning carjacking, first reported after 3 a.m. on the 700 block of Bedlow Drive. In this "brazen" carjacking, a 69-year-old male victim was injured and was hospitalized with moderate-to-severe injuries.

From the first carjacking report, a Stockton police sergeant followed the stolen vehicle to Kentfield Road, which is where the suspect got out of the vehicle and shot at the sergeant. It's there, a spokesperson for the Stockton Police Department told CBS13, the sergeant was hit in the chest and the shoulder.

The sergeant is expected to recover. He was wearing a bulletproof vest and was hit in an area where the vest did not cover.

What are the races of people from Thailand?


Thailand is a country of some 70 ethnic groups, including at least 24 groups of ethnolinguistically Tai peoples, mainly the Central, Southern, Northeastern, and Northern Thais; 22 groups of Austroasiatic peoples, with substantial populations of Northern Khmer and Kuy; 11 groups speaking Sino-Tibetan languages ('hill tribes'), with the largest in population being the Karen; 3 groups of Austronesian peoples, i.e., the Malay, the majority ethnic group in the southernmost three provinces, together with the Moken and Urak Lawoi ('sea gypsies'); and both groups of Hmong-Mien. Other ethnic groups include longstanding immigrant communities such as the Chinese, Indians and Thai Portuguese [th].